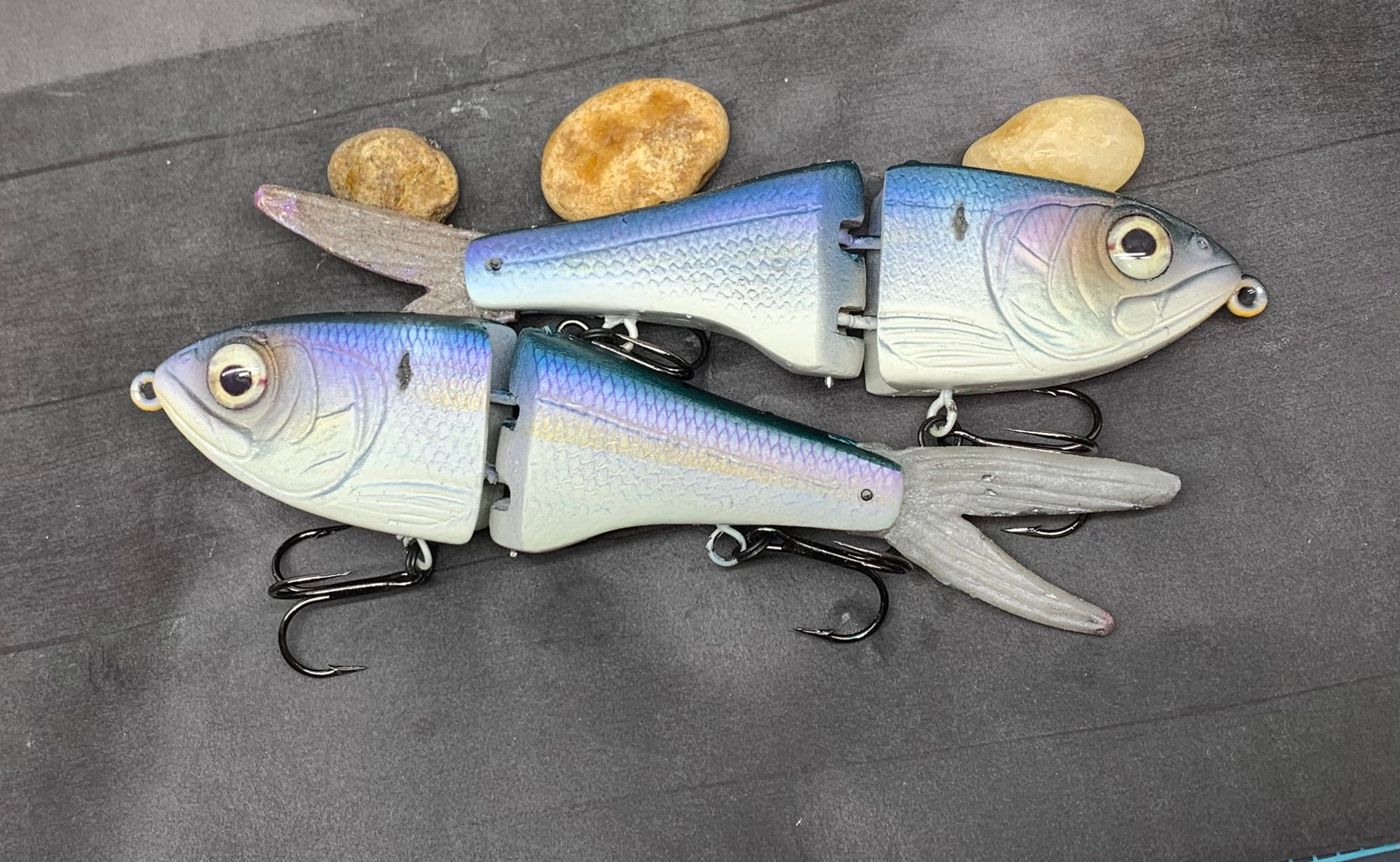 ** NEW MAG 45 - WAKE DRIFTER (S) GLIDE - Blue Matte
RETRIEVE SPEED:
S - STANDARD
** Will be limited to 5 per person.
45 Wake Drifter
Model | S Glide , super slow sink 
(model is tuned for very slow sink)
Finish | Blue herring matte
45 MAG (Wake Drift)
This 4.5 inch 2 piece bait is designed to be a multipurpose Swimbait, and excel in several situations . With similar characteristics to a glide bait, this bait walks/cuts with subtle handle snaps or rod twitch's. Ideal for drawing fish up from deep structures and out from shallow targets also when the faster moving baits aren't the ticket . With a wandering 'S' / drifting action on a steady/ slow retrieve it also performs great as wake style bait aswell.
Performs best with larger snap/split ring connection, 20-25lb fluorocarbon, # 2 hooks
Sent with a replacement tail, *super glue tail & pin as needed 
Model | S 
Length: 4.5 inch
Weight: S -1.3oz
MODEL- S - Glide 
NOTICE:
1. Each bait is HAND PAINTED so there may be a variance in the color. Your bait will be VERY close to the colors pictured above. Please note that the baits pictured above are not necessarily the exact bait you will receive.
2. Any original factory bait components (i.e. split rings or hooks) that are deemed insufficient after removal for the paint process will be replaced with premium components.
3. ALL custom repainted baits are brand name bodies just like you would buy in the store. We DO NOT paint or sell any knock off products.
4. **Custom Painted baits and finishes are not indestructible and are not guaranteed to be warrantied after being used**
** 'Chrome and Foiled style' finishes are not warrantied after use **
We offer lures in a wide variety of finishes, using multiple paint styles and techniques to achieve our finished products. Ultra sharp hooks, improper care, storage & handling of a lure can result in damaged finishes. Hook rash, chips , lost eyes and the like are not uncommon when fishing a hard bodied lure. 

Recommendations -
• Storing baits in original box or tackle boxes .
• Avoid contact with other hard surfaces, chemicals, paints, dyes etc
• Avoid 'water slapping' to clear a lure fouled with vegetation . Avoid 'boat flipping' fish on the lures which can caused additional damage 
• Minor repairs can be addressed on the water with standard clear Glues and/or Epoxy. Often resulting in extending the life of your custom finished bait!